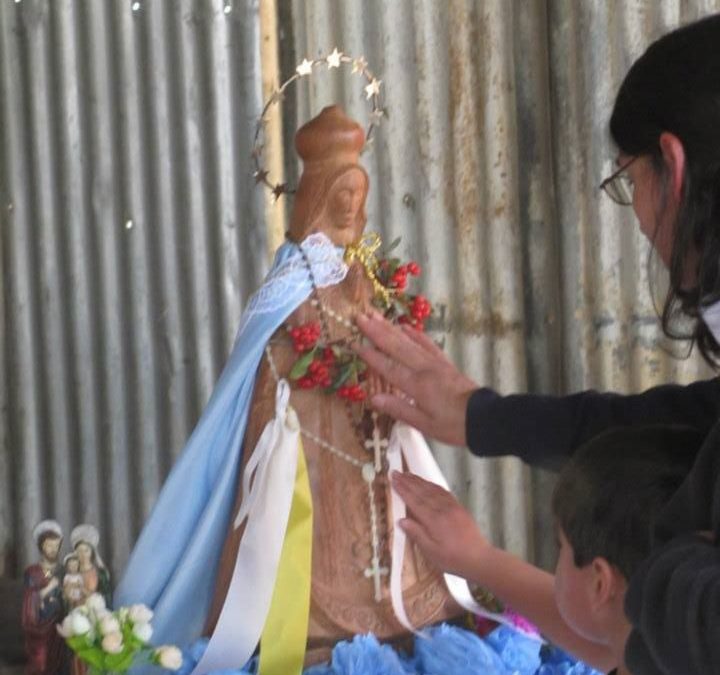 A REAL TRADITIONAL PARTY. On Sunday July 28, while the people vibrated to the sound of the engines of the Federal Rally, a group of civilians passed at a slow pace, accompanied by the image of Our Lady of Itatí, they were going to the old post of traffic police at  the RP41, where the mass and then the Creole party was going to take place.And we were dazzled. We found a gathering of "real" gauchos and countrywomen. No makeup, no commercial pollution, with the untidiness of a meeting made between friends; where the customs were crudely shown; without "banners", powerful stereos or speakers with fake voices.An improvisation dominated the place: in the parking lot they were charging a token entry ($ 10.-) for the benefit of a rural school, and also the priest asked for a singer among the people and a guitar for the celebration.And then the riding skills came, also music and long conversations between peers. It is worth noticing that three-quarters of the attendees were fellow countrymen and countrywomen. Culturally speaking, a moving party.Finally, some thoughts: No need to be scared by great sceneries, famous artists, speakers and fireworks at subsidized festivals. While these countrymen make these meetings, the tradition is not at risk
UNA VERDADERA FIESTA PAISANA. El domingo 28 de julio, mientras el pueblo vibraba al son de los motores del Rally Federal, un grupo de paisanos a paso lento, acompañaba la imagen de Nuestra Señora de Itatí al viejo puesto de la policía caminera sobre la RP41, lugar de la celebración de la misa de campo y luego la fiesta criolla.
Y allí nos deslumbramos. Descubrimos una reunión de gauchos y paisanas "de verdad". Sin maquillajes, sin contaminación comercial, con la desprolijidad de una reunión hecha entre amigos; en donde los usos y costumbres se mostraron crudamente; sin "banners" de organismos, ni poderosos equipos de sonido, ni locutores con voz impostada.
Una simpática improvisación dominaba el espectro: desde el estacionamiento, al cobro de una entrada simbólica ( $ 10.-) a beneficio de una escuela rural, a la misa de campo en donde el sacerdote tuvo que pedir por una cantante entre los fieles y una guitarra para la celebración.
Y luego llegaron las destrezas a caballo, la música y las largas charlas entre pares. Por tratarse de la Virgen de Itatí, la fiesta tuvo un fuerte acento litoraleño ya sea por la música de fondo, como el conjunto de chamamé que se presentó "delante" de un desvencijado escenario armado con palos y chapas viejas pero que en su conjunto nos hacía volar a las temperas de Florencio Molina Campos.
Cabe destacar que las tres cuartas partes de los asistentes eran paisanos y paisanas. Culturalmente hablando, una fiesta conmovedora.
Finalmente, una reflexión: No nos tenemos que asustar por grandes escenarios, artistas famosos, altoparlantes y los fuegos artificiales en las fiestas subsidiadas. En tanto existan y se realicen estas reuniones de paisanos, la tradición no corre riesgos.